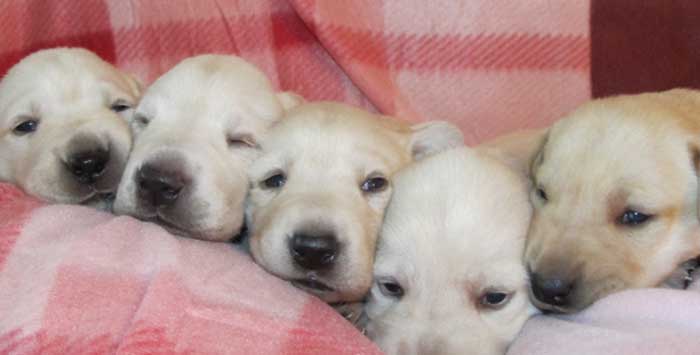 Labrador Puppies for Sale

Prices range from $800 - $1000
New Litter!
Scarlet's New Litter born July 13th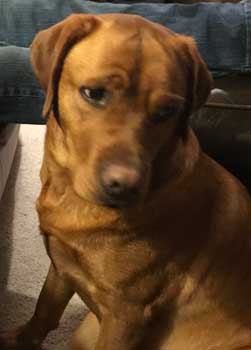 Scarlet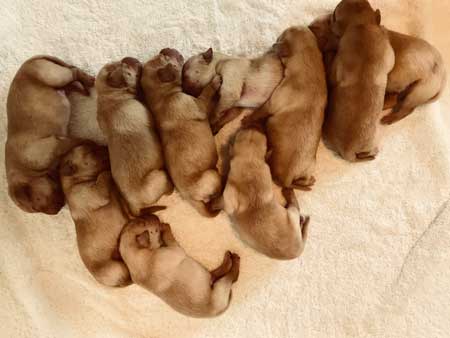 -----------------------------------------------------
Contact us for more information and to reserve your pup!
All puppies will sell with a Health Guarantee and Limited Registration for Family pets only.

Your puppy must be paid for in Full by 7 weeks of age (no exceptions) and will ship at 8 weeks. We generally produce 4-6 litters of puppies a year. We offer yellow, white, and chocolate puppies for sale. We will ship a lab puppy to you anywhere, but as always, we invite you to hand pick your next puppy.

Pond Creek labs main goal is to produce healthy, intelligent, and good looking lab puppies. All of our lab puppies have up to date vaccinations, worming, and dew claws removed. At the time of purchase you will receive a health record of your puppy, a copy of the puppies pedigree, and our written guarantee.

The socialization a puppy receives during its first 12 weeks has more of an impact on its temperament than genetics. For this reason, all litters of Labs we produce are kept inside our home where each of the puppies receive the care and all the affection they need to be happy and well-adjusted when we send them home with their new family. During the first 10 to 12 days, we hold and cuddle each puppy for a few minutes every day. We continue to cuddle and start to play with them during the period in which their eyes and ears open. From 3 weeks to around 16 weeks is the most important period for bonding with people and socialization. Once they are 3 weeks or so , we play with them daily and allow them to explore the farm.

Dew claws have been removed professionally by our veterinarian. Puppies will be dewormed at the age of 2 weeks, 5 weeks, and 6 weeks. Puppies will have first set of puppy vaccinations and health examination when they are 6 weeks old.
A Non-refundable deposit of $200.00 is required to hold your choice of puppy.
Choose your new puppy by color or frame.
Call & reserve your pup today.....they go quickly!
469-203-5053




Visa/MC or PayPal E-Checks
All accepted right over the phone!!
HEALTH GUARANTEE

Your Puppy comes with a health guarantee, current vaccinations, and deworming schedule.
All of our puppies are guaranteed to be in good health and free from visible signs of infection, contagious or communicable diseases when purchased. We guarantee the puppy to be free of any LIFE THREATENING congenital defects for 1 year from the date of birth.

A licensed veterinarian must examine your puppy within 72 hrs. of delivery. If there is a problem, our veterinarian will interpret the report and if he concurs, then a replacement puppy will be given. There will be no cash or credit refunds. We offer replacement puppies only. If you fail to have your puppy checked by a licensed veterinarian within 72 hours of delivery, we the seller, assume no further responsibility and the guarantee is VOID.

We must be notified in writing at the onset of a problem,with a report from your veterinarian. If the puppy is proved to have a LIFE THREATENING congenital defect within 1 year and is returned to us, all shipping charges are the responsibility of the purchaser. A returned puppy must be returned to us in good condition.

A replacement puppy will be mutually agreed upon by both parties and be on comparable bloodlines. It is understood that the replacement puppy may not be from the exact parents of the original puppy. However, it is our desire to please, and we will work with our buyers, to ensure satisfaction.

All vet charges incurred by the purchaser are the sole responsibility of the purchaser and will under no circumstances be paid by us!

There are certain disorders that may be caused by environmental factors for example: allergies, thyroid dysfunction, demodectic mange and other autoimmune disorders that are not covered by this guarantee.

Our Puppies are sold as PET QUALITY puppies. We do not guarantee your puppy to be able to sire or whelp puppies.

Please do not take your puppy into public places unless absolutely necessary, until the puppy has had all of its vaccinations (as recommended by your veterinarian) to insure immunity against disease.
Pond Creek Labradors
Quitman, Texas
469-203-5053
Email: cynfoster@att.net
Home || About Us || Our Adults